Stainless steel systems

Fastening systems for ventilated facades:
Stainless steel brackets are used for larger loads. Similar to aluminium brackets, they are highly resistant to corrosion but at the same time maintain a lower thermal conductivity coefficient and improve overall thermal performance of the external partition. Because of these two factors they can be installed without PVC washers. Both sizes (BL and BM) come in various lengths from 60 to 300 mm (in 20 mm increments).
ARTRYS BRACKET LARGE STAINLESS -
BLS X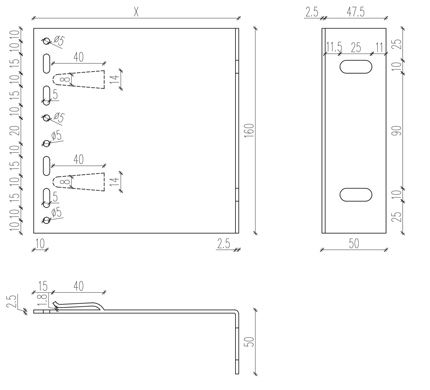 | NAME OF CONSOLE | X [mm] |
| --- | --- |
| ARTRYS Stainless Bracket Large - BLS 300 | 300 |
| ARTRYS Stainless Bracket Large - BLS 280 | 280 |
| ARTRYS Stainless Bracket Large - BLS 260 | 260 |
| ARTRYS Stainless Bracket Large - BLS 240 | 240 |
| ARTRYS Stainless Bracket Large - BLS 220 | 220 |
| ARTRYS Stainless Bracket Large - BLS 200 | 200 |
| ARTRYS Stainless Bracket Large - BLS 180 | 180 |
| ARTRYS Stainless Bracket Large - BLS 160 | 160 |
| ARTRYS Stainless Bracket Large - BLS 140 | 140 |
| ARTRYS Stainless Bracket Large - BLS 120 | 120 |
| ARTRYS Stainless Bracket Large - BLS 100 | 100 |
| ARTRYS Stainless Bracket Large - BLS 80 | 80 |
| ARTRYS Stainless Bracket Large - BLS 60 | 60 |
| Material: | |
| Stainless steel 1.4404/2B (316) lub 1.4301/2B (304) | |
ARTRYS BRACKET MEDIUM STAINLESS -
BMS X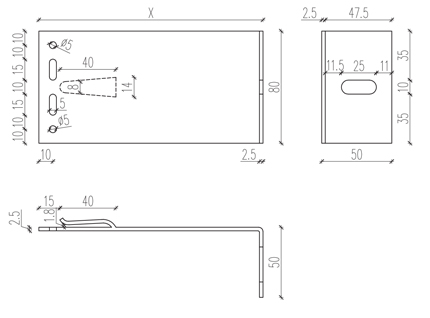 | NAME OF CONSOLE | X [mm] |
| --- | --- |
| ARTRYS Stainless Bracket Medium - BMS 300 | 300 |
| ARTRYS Stainless Bracket Medium - BMS 280 | 280 |
| ARTRYS Stainless Bracket Medium - BMS 260 | 260 |
| ARTRYS Stainless Bracket Medium - BMS 240 | 240 |
| ARTRYS Stainless Bracket Medium - BMS 220 | 220 |
| ARTRYS Stainless Bracket Medium - BMS 200 | 200 |
| ARTRYS Stainless Bracket Medium - BMS 180 | 180 |
| ARTRYS Stainless Bracket Medium - BMS 160 | 160 |
| ARTRYS Stainless Bracket Medium - BMS 140 | 140 |
| ARTRYS Stainless Bracket Medium - BMS 120 | 120 |
| ARTRYS Stainless Bracket Medium - BMS 100 | 100 |
| ARTRYS Stainless Bracket Medium - BMS 80 | 80 |
| ARTRYS Stainless Bracket Medium - BMS 60 | 60 |
| Material: | |
| Stainless steel 1.4404/2B (316) lub 1.4301/2B (304) | |