SZ systems

Mounting systems for composite panels:
SZ system is designed for horizontal panel layout. The ASP (S shaped) profile is attached to the bottom of the cassette while The AZP (Z shaped) profile is attached to its top part. When The cas-settes are installed the profiles interlock.
Each AZP profile is additionally screwed to vertical profiles. The ASTP profile is used at the bottom of the facade to install the first line of ACP cassettes. Stainless steel AC clips secure the connection between The SZ (ASP-AZP) profiles.
.
ARTRYS SZ- SYSTEM PROFILES -
ASP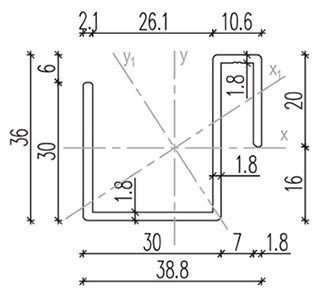 Material:
Aluminum EN AW 6060 T6/T66
DATA FOR PROFILE ASP:
Jx = 3,18 cm4
Jy = 4,53 cm4
Jx1 = 2,17 cm4
Jy1 = 5,53 cm4
Wx = 1,57 cm³
Wy = 2,23 cm³
Wx1 = 0,97 cm³
Wy1 = 2,09 cm³
A = 2,22 cm²
Weight = 0,60 kg/m
ARTRYS SZ- SYSTEM PROFILES-
AZP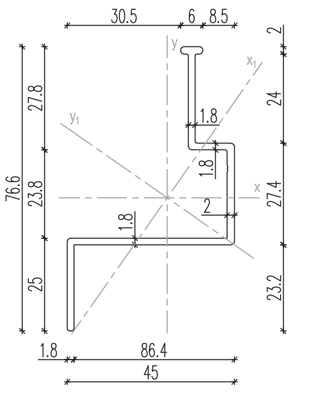 Material:
Aluminum EN AW 6060 T6/T66
DATA FOR PROFILE AZP:
Jx = 9,45 cm4
Jy = 6,28 cm4
Jx1 = 3,06 cm4
Jy1 = 12,67 cm4
Wx = 2,32 cm³
Wy = 2,34 cm³
Wx1 = 1,41 cm³
Wy1 = 2,85 cm³
A = 2,46 cm²
Masa = 0,67 kg/m
ARTRYS SZ- SYSTEM PROFILES -
ASTP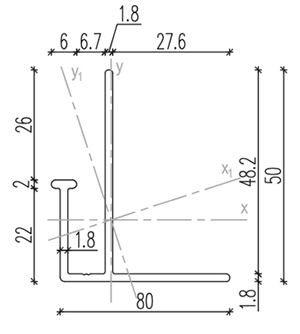 Material:
Aluminum EN AW 6060 T6/T66
DATA FOR PROFILE ASTP:
Jx = 4,33 cm4
Jy = 1,99 cm4
Jx1 = 4,59 cm4
Jy1 = 1,73 cm4
Wx = 1,22 cm³
Wy = 0,71 cm³
Wx1 = 1,35 cm³
Wy1 = 0,77 cm³
A = 2,06 cm²
Masa = 0,56 kg/m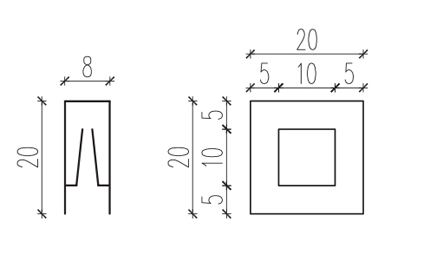 Material:
Stainless steel 1.4301/2B (304)
CONNECTION WITH THE ATTIC AND GROUND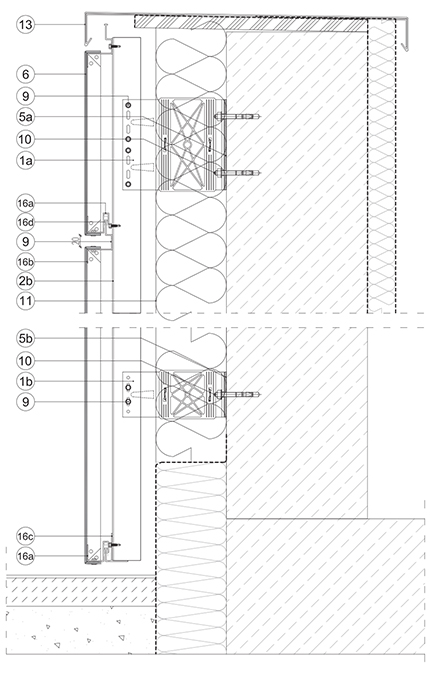 1a.
ARTRYS BRACKET LARGE PASSIVE - BLP X
1b.
ARTRYS BRACKET MEDIUM PASSIVE - BMP X
2b.
ARTRYS L PROFILE - ALP 45/55/2
5a.
ISOLATOR LARGE - PVC L
5b.
ISOLATOR MEDIUM - PVC M
6
CLADDING PANEL
9
SELF-DRILLING SCREW
10
ANCHOR
11
MINERAL WOOL WITH VEIL
15
SELF-TURNING SCREW
16a.
ARTRYS SZ-SYSTEM PROFILES - ASP
16b.
ARTRYS SZ-SYSTEM PROFILES - AZP
16c.
ARTRYS SZ-SYSTEM PROFILES - ASTP
16d.
ARTRYS CLIP - AC
EXTERNAL CORNER CONNECTION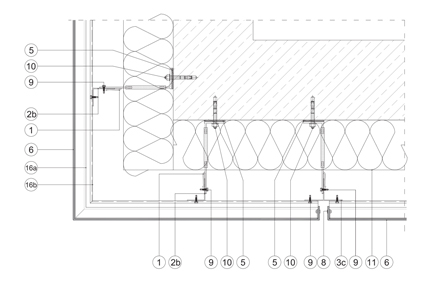 1
ARTRYS BRACKET PASSIVE - BLP X/BMP X
2b.
ARTRYS L PROFILE - ALP 45/55/2
3c.
ARTRYS T PROFILE - ATP 105/55/2
5
ISOLATOR - PVC L / PVC M
6
CLADDING PANEL
8
RIVET
9
SELF-DRILLING SCREW
10
ANCHOR
11
MINERAL WOOL WITH VEIL
15
SELF-TURNING SCREW
16a.
ARTRYS SZ-SYSTEM PROFILES - ASP
16b.
ARTRYS SZ-SYSTEM PROFILES - AZP
WINDOW CONNECTION -
VERTICAL GLYPH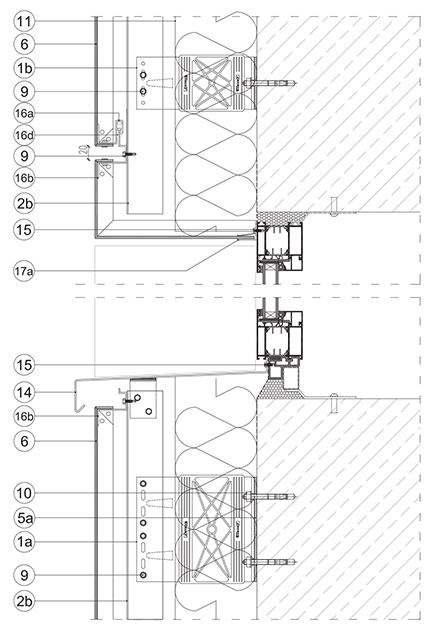 1a.
ARTRYS BRACKET LARGE PASSIVE - BLP X
1b.
ARTRYS BRACKET MEDIUM PASSIVE - BMP X
2b.
ARTRYS L PROFILE - ALP 45/55/2
5a.
ISOLATOR LARGE - PVC L
5b.
ISOLATOR MEDIUM - PVC M
6
CLADDING PANEL
9
SELF-DRILLING SCREW
10
ANCHOR
11
MINERAL WOOL WITH VEIL
14
WINDOWSILL
15
SELF-TURNING SCREW
16a.
ARTRYS SZ-SYSTEM PROFILES - ASP
16b.
ARTRYS SZ-SYSTEM PROFILES - AZP
16d.
ARTRYS CLIP - AC
17a.
ARTRYS WINDOW PROFILE - AWP1