Passive systems

Fastening systems for ventilated facades:
Passive brackets are the newest addition to the Artrys product range. Made of both aluminium and plastic elements, the brackets are characterised by outstanding insulation parameters and practically eliminate the thermal bridge phenomenon. The strength and durability of the plastic insert have been improved by its special ribbing and the addition of fibre-glass.
They have to be used with PVC washers or PES tape to separate the aluminium element from the wall. Both sizes (BL and BM) come in various lengths from 180 to 280 mm (in 20 mm increments). 260 and 280 mm long brackets come only in large sizes (BLP) but are still used as FIX and LOS points.
ARTRYS BRACKET LARGE PASSIVE -
BLP X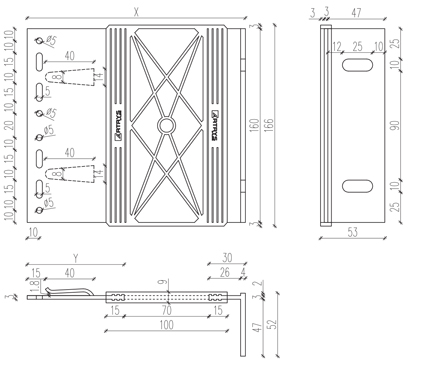 NAME OF CONSOLE
X [mm]
Y [mm]
ARTRYS Bracket Large Passive - BLP 180
180
80
ARTRYS Bracket Large Passive - BLP 200
200
100
Material:
Aluminum EN AW 6060 T6
Fibre Polyamide PA66 GF50
ARTRYS BRACKET MEDIUM PASSIVE -
BMP X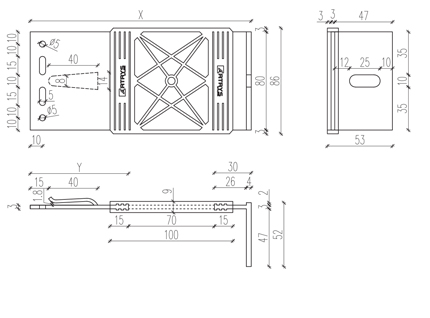 | NAME OF CONSOLE | X [mm] | Y [mm] |
| --- | --- | --- |
| ARTRYS Bracket Medium Passive - BLP 180 | 180 | 80 |
| ARTRYS Bracket Medium Passive - BLP 200 | 200 | 100 |
| Material | | |
| Aluminum EN AW 6060 T6 | | |
| Fibre Polyamide PA66 GF50 | | |
ARTRYS BRACKET LARGE PASSIVE -
BLP X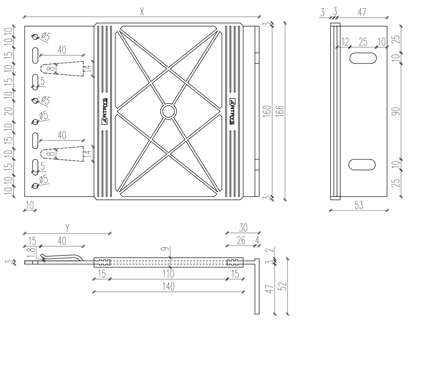 | NAME OF CONSOLE | X [mm] | Y [mm] |
| --- | --- | --- |
| ARTRYS Bracket Large Passive - BLP 220 | 220 | 80 |
| ARTRYS Bracket Large Passive - BLP 240 | 240 | 100 |
| Material: | | |
| Aluminum EN AW 6060 T6 | | |
| Fibre Polyamide PA66 GF50 | | |
ARTRYS BRACKET MEDIUM PASSIVE -
BMP X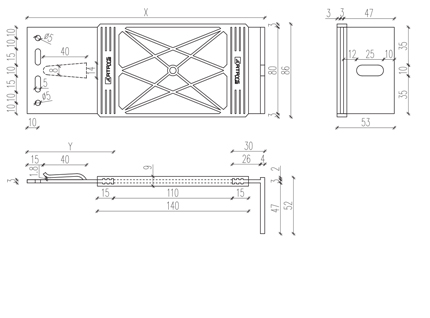 | NAME OF CONSOLE | X [mm] | Y [mm] |
| --- | --- | --- |
| ARTRYS Bracket Medium Passive - BLP 220 | 220 | 80 |
| ARTRYS Bracket Medium Passive - BLP 240 | 240 | 100 |
| Material: | | |
| Aluminum EN AW 6060 T6 | | |
| Fibre Polyamide PA66 GF50 | | |
ARTRYS BRACKET LARGE PASSIVE -
BLP X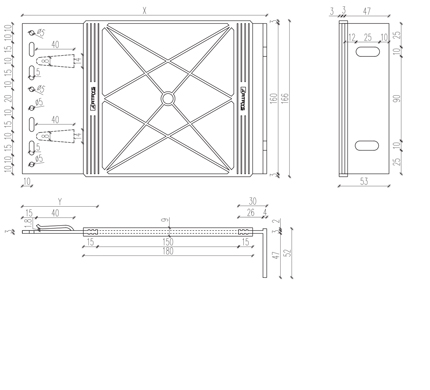 | NAME OF CONSOLE | X [mm] | Y [mm] |
| --- | --- | --- |
| ARTRYS Bracket Large Passive - BLP 260 | 260 | 80 |
| ARTRYS Bracket Large Passive - BLP 280 | 280 | 100 |
| Material: | | |
| Aluminum EN AW 6060 T6 | | |
| Fibre Polyamide PA66 GF50 | | |