Horizontal Profile Layout

Horizontal profile layout is the most cost effective when high, narrow cladding panels are to be installed. Artrys solution stands out from other available offers on the market as our brackets are fixed in the same vertical direction. Thanks to this, all the forces are transferred parallel to the strongest points of the assembly.
Horizontal profiles are fixed to AD adapters which can be adjusted. The benefits of this solution are easy installation (without significant interference in the insulation) and low material consumption.
ARTRYS ADAPTER -
AD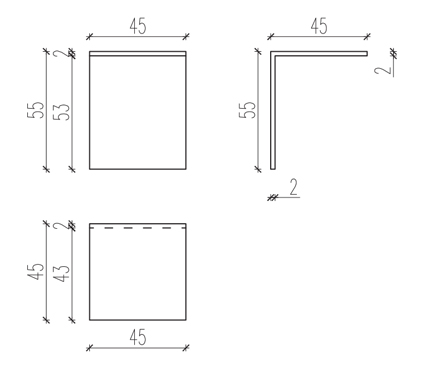 Material:
Aluminum EN AW 6060 T6
CONNECTION WITH THE ATTIC AND GROUND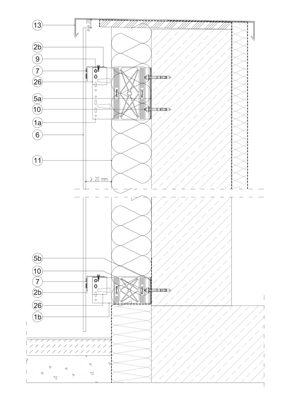 | | |
| --- | --- |
| 1a. | ARTRYS BRACKET LARGE PASSIVE - BLP X |
| 1b. | ARTRYS BRACKET MEDIUM PASSIVE - BMP X |
| 2b. | ARTRYS L PROFILE - ALP 45/55/2 |
| 5a. | ISOLATOR LARGE - PVC L |
| 5b. | ISOLATOR MEDIUM - PVC M |
| 6 | CLADDING PANEL |
| 7 | ADHESIVE + TAPE |
| 9 | SELF-DRILLING SCREW |
| 10 | ANCHOR |
| 11 | MINERAL WOOL WITH VEIL |
| 13 | FLASHING |
| 26 | ARTRYS ADPATER - AD |
EXTERNAL CORNER CONNECTION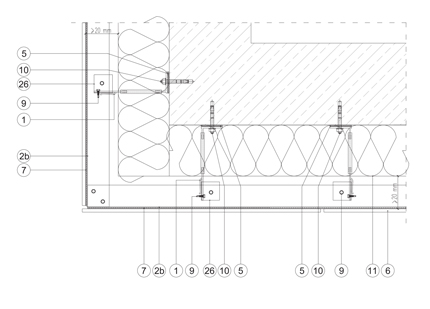 | | |
| --- | --- |
| 1 | ARTRYS BRACKET PASSIVE - BLP X/BMP X |
| 2b. | ARTRYS L PROFILE - ALP 45/55/2 |
| 5 | ISOLATOR - PVC L/PVC M |
| 6 | CLADDING PANEL |
| 7 | ADHESIVE + TAPE |
| 9 | SELF-DRILLING SCREW |
| 10 | ANCHOR |
| 11 | MINERAL WOOL WITH VEIL |
| 26 | ARTRYS ADAPTER - AD |
WINDOW CONNECTION –
HORZONTAL GLYPH, WINDOWSILL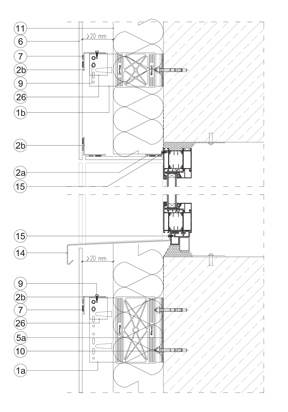 1a.
ARTRYS BRACKET LARGE PASSIVE - BLP X
1b.
ARTRYS BRACKET MEDIUM PASSIVE - BMP X
2a.
ARTRYS L PROFILE - ALP 45/20/2
2b.
ARTRYS L PROFILE - ALP 45/55/2
5a.
ISOLATOR LARGE - PVC L
5b.
ISOLATOR MEDIUM - PVC M
6
CLADDING PANEL
7
ADHESIVE + TAPE
9
SELF-DRILLING SCREW
10
ANCHOR
11
MINERAL WOOL WITH VEIL
14
WINDOWSILL
15
SELF-TURNING SCREW
26
ARTRYS ADPATER - AD
WINDOW CONNECTION -
VERTICAL GLYPH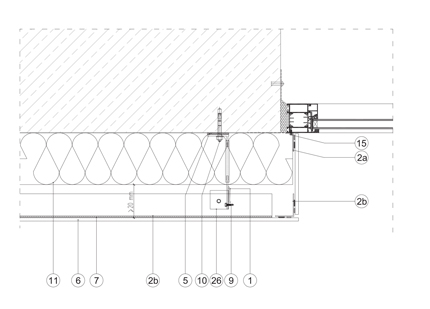 | | |
| --- | --- |
| 1 | ARTRYS BRACKET PASSIVE - BLP X/BMP X |
| 2a. | ARTRYS L PROFILE - ALP 45/20/2 |
| 2b. | ARTRYS L PROFILE - ALP 45/55/2 |
| 5 | ISOLATOR - PVC L/PVC M |
| 6 | CLADDING PANEL |
| 7 | ADHESIVE + TAPE |
| 9 | SELF-DRILLING SCREW |
| 10 | ANCHOR |
| 11 | MINERAL WOOL WITH VEIL |
| 15 | SELF-TURNING SCREW |
| 26 | ARTRYS ADPATER - AD |