Systems for Mechanical Fixing of Ceramic and Stone Cladding Panels

Artrys subframe systems are used to fix various types of ceramic and stone cladding panels. One of the most common ways to do so is to attach stainless steel holders to our vertical profiles. Coat-ed in colours that match the cladding panel s, the holders are barely noticeable. Openings in the holders enable them to be fixed through joints which makes disassembly easy, if necessary.

One of the examples of how to fix ceramic tiles is the Tonality (BAS) clamping rails system de-signed specifically for Creaton panels. Profiles with holders are fixed to vertical aluminium profiles and a panel with a grooved back is later hanged on them. Decorative profiles help to cover the visible edges of panels. In 2017, the Artrys subframe system, together with Tonality system were tested in The Polish Institute of Building Technology.
CONNECTION WITH ATTICS AND LAND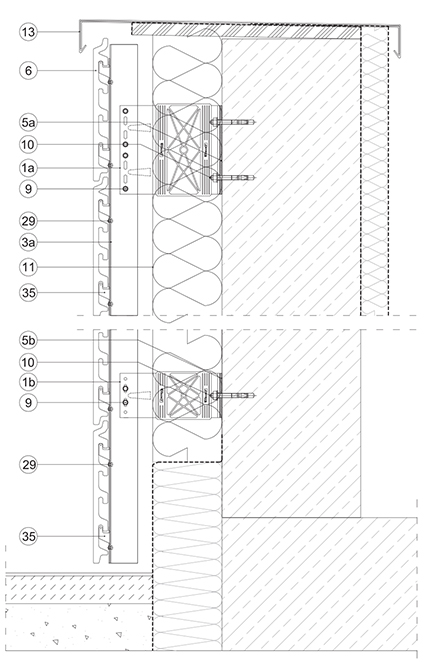 | | |
| --- | --- |
| 1a. | ARTRYS BRACKET LARGE PASSIVE - BLP X |
| 1b. | ARTRYS BRACKET MEDIUM PASSIVE - BMP X |
| 3a. | ARTRYS T PROFILE - ATP 75/55/2 |
| 5a. | ISOLATOR LARGE - PVC L |
| 5b. | ISOLATOR MEDIUM - PVC M |
| 6. | CLADDING PANEL |
| 9 | SELF-DRILLING SCREW |
| 10 | ANCHOR |
| 11 | MINERAL WOOL WITH VEIL |
| 13. | FLASHING |
| 29. | BLIND RIVET |
| 35. | BAS CREATON JOINT PROFILE |
EXTERNAL CORNER CONNECTION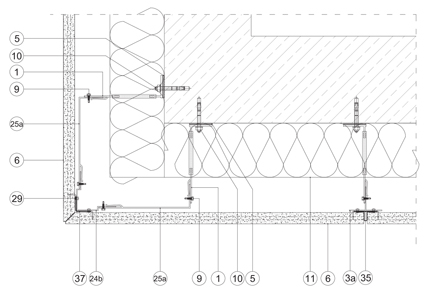 | | |
| --- | --- |
| 1a. | ARTRYS BRACKET PASSIVE - BLP X/BMP X |
| 3a. | ARTRYS T PROFILE - ATP 75/55/2 |
| 5. | ISOLATOR - PVC L/PVC M |
| 6. | CLADDING PANEL |
| 9 | SELF-DRILLING SCREW |
| 10 | ANCHOR |
| 11 | MINERAL WOOL WITH VEIL |
| 24b. | ARTRYS CORNER PROFILE - ACP2 |
| 25a. | ARTRYS CORNER GRIP - AGL210/AGM210 |
| 29. | BLIND RIVET |
| 35. | BAS CREATON JOINT PROFILE |
| 37. | BAS CREATON CORNER PROFILE |
WINDOW CONNECTION
– HORZONTAL GLYPH, WINDOWSILL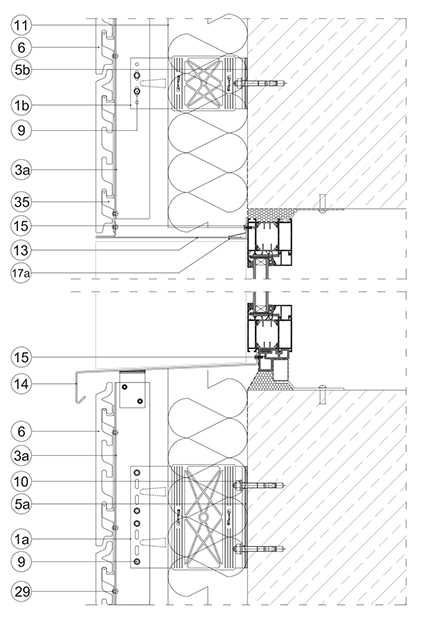 | | |
| --- | --- |
| 1a. | ARTRYS BRACKET LARGE PASSIVE - BLP X |
| 1b. | ARTRYS BRACKET MEDIUM PASSIVE - BMP X |
| 3a. | ARTRYS T PROFILE - ATP 75/55/2 |
| 5a. | ISOLATOR LARGE - PVC L |
| 5b. | ISOLATOR MEDIUM - PVC M |
| 6. | CLADDING PANEL |
| 9 | SELF-DRILLING SCREW |
| 10 | ANCHOR |
| 11 | MINERAL WOOL WITH VEIL |
| 13. | FLASHING |
| 14. | WINDOWSILL |
| 15. | SELF-TURNING SCREW |
| 17a. | ARTRYS WINDOW PROFILE - AWP1 |
| 29. | BLIND RIVET |
| 35. | BAS CREATON JOINT PROFILE |
WINDOW CONNECTION
- VERTICAL GLYPH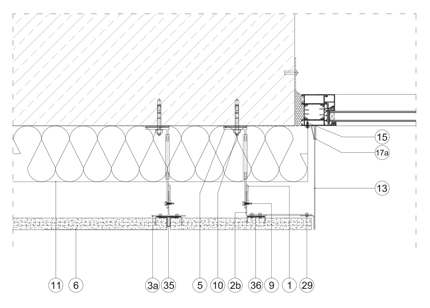 | | |
| --- | --- |
| 1a. | ARTRYS BRACKET PASSIVE - BLP X/BMP X |
| 2b. | ARTRYS L PROFILE - ALP 55/45/2 |
| 3a. | ARTRYS T PROFILE - ATP 75/55/2 |
| 5. | ISOLATOR - PVC L/PVC M |
| 6. | CLADDING PANEL |
| 9 | SELF-DRILLING SCREW |
| 10 | ANCHOR |
| 11 | MINERAL WOOL WITH VEIL |
| 13. | FLASHING |
| 15. | SELF-TURNING SCREW |
| 17a. | ARTRYS WINDOW PROFILE -AWP1 |
| 29. | BLIND RIVET |
| 35. | BAS CREATON JOINT PROFILE |
| 36. | BAS CREATON END PROFILE |
WINDOW CONNECTION
– HORZONTAL GLYPH, WINDOWSILL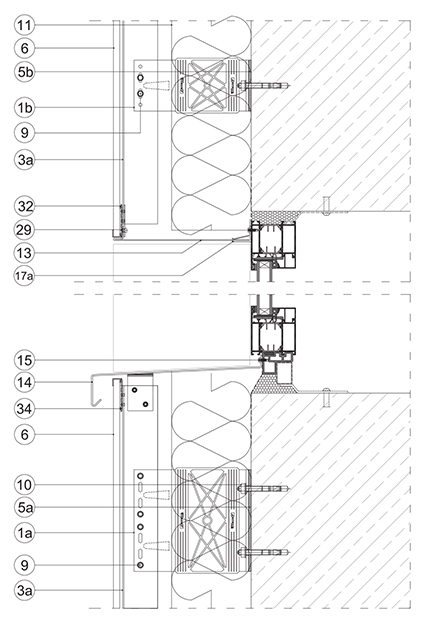 | | |
| --- | --- |
| 1a. | ARTRYS BRACKET LARGE PASSIVE - BLP X |
| 1b. | ARTRYS BRACKET MEDIUM PASSIVE - BMP X |
| 3a. | ARTRYS T PROFILE - ATP 75/55/2 |
| 5a. | ISOLATOR LARGE - PVC L |
| 5b. | ISOLATOR MEDIUM - PVC M |
| 6. | CLADDING PANEL |
| 9 | SELF-DRILLING SCREW |
| 10 | ANCHOR |
| 11 | MINERAL WOOL WITH VEIL |
| 13. | FLASHING |
| 14. | WINDOWSILL |
| 15. | SELF-TURNING SCREW |
| 17a. | ARTRYS WINDOW PROFILE - AWP1 |
| 29. | BLIND RIVET |
| 32. | BEGINNING BUCKLE |
| 34. | ENDING BUCKLE |
WINDOW CONNECTION
- VERTICAL GLYPH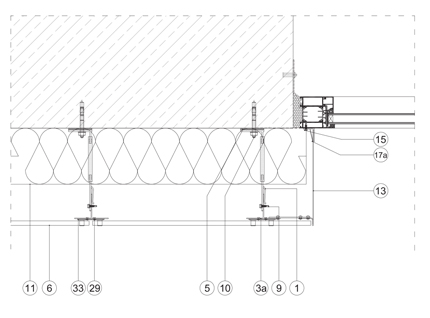 | | |
| --- | --- |
| 1a. | ARTRYS BRACKET PASSIVE - BLP X/BMP X |
| 3a. | ARTRYS T PROFILE - ATP 75/55/2 |
| 5. | ISOLATOR - PVC L/PVC M |
| 6. | CLADDING PANEL |
| 9 | SELF-DRILLING SCREW |
| 10 | ANCHOR |
| 11 | MINERAL WOOL WITH VEIL |
| 13. | FLASHING |
| 15. | SELF-TURNING SCREW |
| 17a. | ARTRYS WINDOW PROFILE -AWP1 |
| 29. | BLIND RIVET |
| 33. | JOINT BUCKLE |